We all love a clean home but none of us enjoy the process. From scrubbing toilets to dealing with grease and grime, there's a better way to clean and it's through the power of technology. Consider these best high-tech gadgets for home cleaning.
Best High-Tech Gadgets For Home Cleaning
iRobot Roomba 880
iRobot is without a doubt the leader in the automation of home tasks. Their latest autonomous vacuum, the Roomba 880, is yet another improvement on that persistent little disc that zooms all over your house sucking up dirt from the floors. The new model uses a HEPA filter (as does the earlier 700 series) and superstrong suction that can help free your home from allergens. Like all Roombas, the 880 returns to its dock when it needs a recharge.
iRobot Scooba 450
The Scooba works much like its vacuuming counterpart, except it uses a series of brushes and a cleaning solution to all but eliminate the chore of mopping. The device works on tile, vinyl, or sealed hardwood floors and claims to vanquish up to 97 percent of household bacteria through a multipass, three-stage process: sweep and presoak; scrub and squeegee/vacuum, and squeegee/finish.
Husqvarna 450X Automower Lawnmower
There are many joys of having a large lawn but mowing isn't one of them. The 450X is an automatic lawnmower that uses a GPS-assisted navigation system to cut your grass. No matter how large your yard, this robot can handle it. It can even tackle inclines as high as 45%.
Hobot 298 Window Cleaning Robot
Say goodbye to endlessly scrubbing smudged windows and hello to free time. The Hobot 298 cleans everything from pet nose smudges to fingerprints and everything in between. Just put it on your window or glass door and let it get to work.
Winbot
Among home cleaning chores, washing the windows zooms to the bottom of the list as quickly as a streak-leaving raindrop. But with the Winbot, you'll never again have to get out the old newspapers, bucket, and vinegar. Just stick it on the window and the Winbot's three cleaning stages—washing with a solution-dampened cleaning pad, wiping with a squeegee, and drying with a second pad—will leave your glass surfaces sparkling.
EZsmart Gutter Cleaner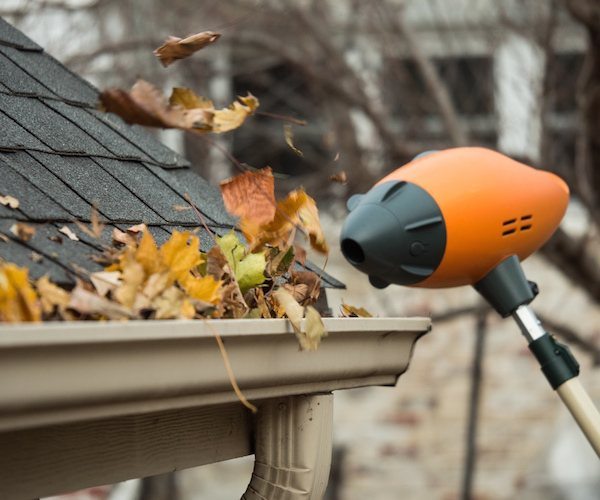 Cleaning your gutters isn't just about looks; making sure they're clear is imperative house upkeep. The EZsmart Gutter Cleaner makes it, well, easier than ever. Armed with an extension pole, blasts away the buildup. Plus, it's complete with a built-in mirror so you can spot any clogs.
Kärcher FC3 Cordless
According to research, commissioned by cleaning experts, Kärcher,​ more than 69 percent of Brits have ditched the mop in favour of modern technology. Because who really wants to push a soggy stick sponge around?
And what better place to put this modern mop to the test other than the grandest of homes, Highclere Castle, best known as Downton Abbey, where ​star Samantha Bond​ and Kärcher teamed up to bring old fashioned cleaning into the 21st century.
So how does it handle? Despite being fairly heavy when not in use, the FC3 is feather-light when it's in action. There is no need to apply any pressure whatsoever, once it's charged you just add cleaning solution and press start.
GTech HyLite
The battery might only last 20 minutes, but for most homes this lightweight vac is ideal for quick cleaning and light everyday use. Who really wants to hoover for more than 20 minutes anyway?
It also folds downs which makes it ideal for small spaces and easy storage. Anyone trying to avoid the extra bulk that comes with cleaning will really appreciate this device.
Braava Jet m6
When set on dry mode the Braava Jet m6 uses electrostatic force to pick up dust and hair. Alternatively, set it to wet mode and a precision jet spray will erase stains and grease—and you don't even need to be in the room.
It uses smart mapping to see where it's going, and to help you decide where you'd like it to mop. It can also work with the Roomba s9+.
Kärcher K4 Full Control Home Pressure Washer
After you invest in this upgraded power washer, you will wonder how you lived without it. Whether you are looking to revamp your patio after a long winter or your wellies are in need of a little TLC after a particularly muddy trip, the Kärcher K4 has got you covered.