From pristine natural springs to two-stepping dance halls, we has rounded up the must-visit attractions that make Austin what it is. Whether you're playing tourist in your own city or visiting and looking for things to do during one of the Texas capital's many festivals, here are the best things to do in Austin you won't want to miss.
Best Things To Do In Austin
Sip wine alongside the bluebonnets 
One of the highlights of any Texas spring is the full-display of colorful wildflowers that decorate the state's landscape. From March 22 through April 16, a group of Hill Country wineries are giving you the chance to enjoy all the beauty nature has to offer, while also enjoying all the rosé you can drink. With the purchase of your ticket to The Wine & Wildflower Journey event, you have the chance to sample 43 wineries in the area over the course of 26 days – although you are limited to four per day because, let's be honest, doing all 43 at once would be a recipe for disaster.
Not only do you get a complimentary tasting from each winery, but a 15% discount on purchases of three bottles or more, so you can bring the taste experience all the way back home with you.
Visit Umlauf Sculpture Garden and Museum
The Umlauf Sculpture Garden and Museum offers a monthly after-dark program, with free admission after hours from 6pm to 8pm. The seasonal program takes place on the first Tuesday of the month, giving visitors a chance to experience the evening environment of the sculpture garden, featured gallery exhibitions, plus monthly themed activities, food and entertainment. It also has yoga classes in the garden.
Go To Texas Capitol
Not only will a visit here put you in one of the most beautiful buildings in all of Texas – with some of the richest history – it's also free to enter. You can take one of the Capitol tours that run every 20 to 30 minutes; the tour guides are incredibly knowledgable and will gladly answer questions related to the building or Texas history. If you don't have time for one of those, you can also take a self-guided tour through the various rooms and halls that make up the stunning building.
Discover Blanton Museum of Art
As Austin's premier art museum, the Blanton has an impressive, dizzyingly genre-spanning collection that includes more than 19,000 works, including Renaissance paintings, modern Native American art, a massive prints collection, Roman-era pottery and one of the best Latin American collections in the country. Don't miss Ellsworth Kelly's Austin, a 2,715sq ft (252sq m) stone chapel with colored glass windows and black-and-white marble panels; it's among his most notable works.
Relax at Barton Springs
Barton Springs is a pool/creek that everyone flocks to in the warm summer months. Fed by a natural cold-water spring in Zilker Park (see below), the city-run Barton Springs Pool features manicured lawns that are great for lounging on and relaxing with your friends. The wide pool gives you plenty of room to float around and cool off, as the temperature can hit 100 degrees in the summer.
The pool costs $4 USD to get into (for residents, but they never ask for proof).
While the banks are rockier and there are fewer places to lounge, it's free, it's the same water, and you can drink and eat along it (something that is prohibited in the pool).
Walk the Greenbelt
Located in south-central Austin, the Barton Creek Greenbelt contains 12 miles of gorgeous trails where you can bike, run, or walk. There are even beautiful limestone bluffs for rock climbing and — when there's enough water in the creek — several swimming holes to cool off in.
If you are looking to get out and enjoy the nice weather, this is one of the best places to do it. It's a favorite of everyone in the city and one of the best things to do in Austin!
Go Two-Stepping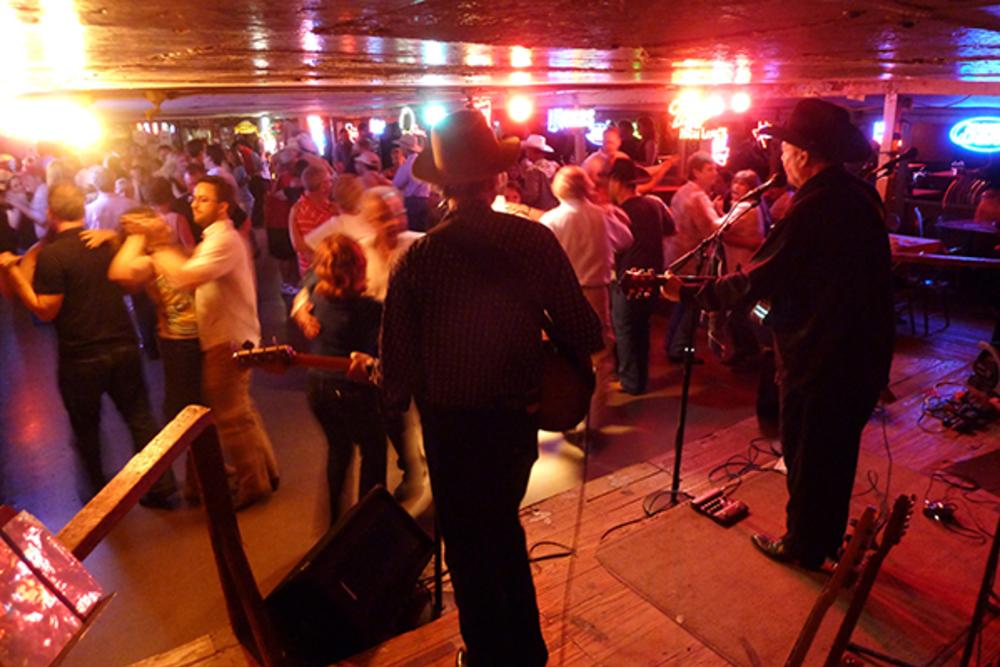 When in Rome…err, Austin, two-step! Two-stepping is a popular country dance — and country dancing is one of Austin's most popular pastimes. To see it in action (or give it a try yourself) head to the White Horse. They give free two-step lessons on Wednesdays so you can try it out and then dance your way around town. The Broken Spoke is another popular place for two-stepping as well.
Read more: Top 5 Best Things To Do In Austin On A Rainy Day