The Fujifilm GFX 100 is the 100 Megapixel medium format camera that the company has been promising since Photokina 2018. It's a dual-grip mirrorless camera that uses the GF lens mount. The addition of on-sensor phase detection for faster focus and in-body image stabilization significantly expands the range of photography it can apply itself to. Keep reading on for the Fujifilm GFX 100 review.
Fujifilm GFX 100 Review
Key specifications
102MP BSI-CMOS 44 x 33mm sensor
On-sensor Phase Detection
5-axis image stabilization
Continuous shooting at up to 5 fps
4K video with 4:2:2 10-bit HDMI output
5.76M-dot removable OLED viewfinder
16 or 14-bit Raw capture
The Fujifilm GFX 100 was launched with a recommended price of $10,000, including the electronic viewfinder.
Image stabilization
The GFX 100 is the world's first medium format camera to offer in-body image stabilization. The five-axis system is rated at 5.5 stops of correction, when tested to CIPA standards. The tests were conducted with the 50mm equiv. GF 63mm lens, so we'd expect the number to be a little lower at longer focal lengths.
However, as much as extending the range of shutter speeds that can be used handheld, image stabilization on a 100 Megapixel sensor should probably also been seen as a way of maximizing the amount of detail you can get at every shutter speed. The higher resolving power of the 100MP sensor means you'll see the effect of shake more readily (or, at least, lose the full benefit of the sensor's resolution sooner), so image stabilization is, perhaps, a required technology if you're going to see the benefit of that pixel count without using a tripod.
Video capabilities
The GFX 100 is not only the first image stabilized medium format camera, it's also the first to shoot 4K video. And it can do so in 10-bit color, captured internally, a spec only matched by handful of cameras outside the dedicated video sphere. This allows the capture of greater dynamic range or produces more flexible Log footage.
The camera is clearly line-skipping to achieve this, so is likely to be more moiré-prone than, for instance, Fujifilm's own X-T3, which reads all its pixels and then downsizes the results. But it also means that the GFX 100's video isn't rendered unusable by the rolling shutter the camera exhibits in electronic shutter mode.
Our initial impressions are that its rolling shutter is around 28ms (1/36 sec) in 4K mode, which is a reasonable performance. For reference, the Panasonic GH5S's ~12ms rate would be considered very good, while the Canon EOS 5D IV's rate of ~31ms is likely to be problematic for some subjects and situations.
Autofocus & Performance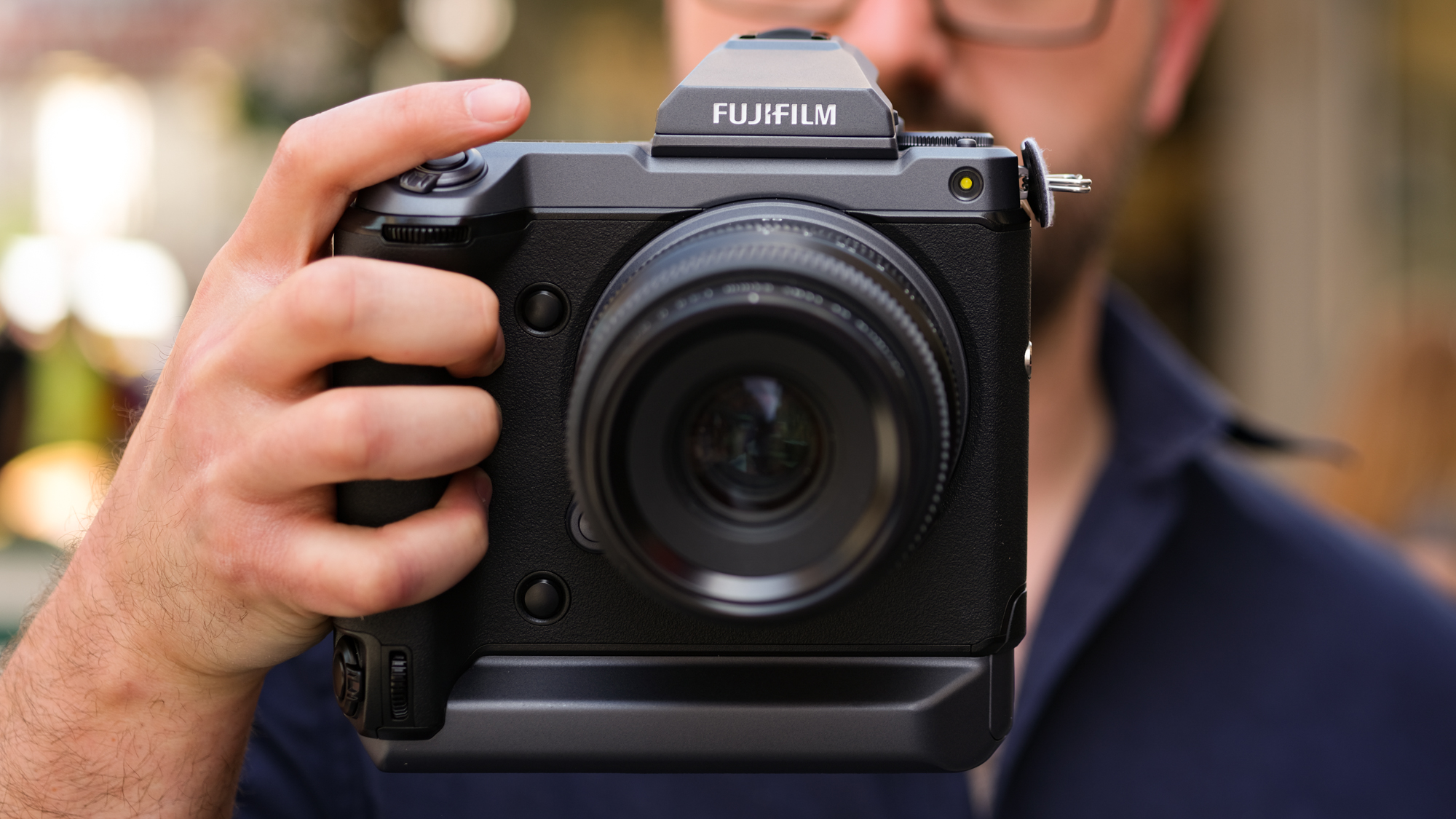 Not only is the GFX 100 a high-resolution camera, but it's also a rather nimble camera — a characteristic not usually associated with a medium-format camera. One of the major new features is its hybrid phase-detect AF system, a first for a GFX-series camera. As a result, the autofocusing performance is vastly improved, particularly with continuous focusing, compared to the other two GFX models, both of which use contrast-detect AF systems that beget fairly sluggish AF speeds.
In our lab testing, the GFX 100's single-shot AF performance was quite fast for a mirrorless camera, and as expected, tested much faster than the GFX 50S. In field-testing, both single-shot AF and continuous AF performed very well, proving a much more capable focusing system than that of the GFX 50S. The hybrid AF system of the GFX 100 offers better AF precision, faster speeds and improved AF point coverage across the sensor area. However, despite noticeable AF improvements compared to its contrast-detect GFX counterparts, the GFX 100's AF system still isn't as fast as those of high-end full-frame mirrorless cameras. The AF system is a big improvement, no doubt, and the camera is much better at focusing on moving subjects, but the GFX 100 still isn't up to snuff for challenging fast-paced action-centric subjects.
When it comes to burst shooting, again, the GFX 100 is much more capable in this area than previous GFX models, and compared to most other medium-format cameras, too. That said, this camera still isn't a "speed demon" by any means. At its fastest, the camera can "only" shoot continuously at 5fps, which is pretty underwhelming compared to most modern full-frame DSLRs and mirrorless cameras. Keep in mind, however, that the GFX 100 is cranking through 100-megapixel images from a larger sensor, so 5fps is actually rather impressive for this camera in and of itself.