The Sony ZV-1 is a new compact camera explicitly designed with vloggers and 'content creators' in mind. From a hardware perspective it's essentially an updated riff on the RX100 V(A), but with both ergonomic and feature changes to make it easier to operate from the 'wrong' side of the lens. As the distinct naming indicates; it's not part of, nor intended as a replacement for, the RX100 series. If you think of yourself as primarily a photographer, the ZV-1 is probably not designed for you. Instead, it's a camera purpose-designed for generating to-camera video for platforms such as YouTube. But that doesn't mean it's just a frivolous novelty. Keep reading on for the Sony ZV-1 review here.
Sony ZV-1 Review
Key specifications
20 megapixel 1" BSI CMOS sensor
24-70mm equivalent F1.8-2.8 lens
Fully articulating, 921K dot, 3" touchscreen display
4K/30p, 1080p/120p and high-speed modes up to 960fps
8-bit. Log and 'HLG' shooting modes
Directional 3-capsule microphone with wind-screen
Excellent autofocus in stills and video
Can be charged via USB while in use
3.5mm microphone jack
Bluetooth and Wi-Fi for image and video transfer
Rated at 260 shots per charge
The ZV-1 can be had for $800 USD. The Sony GP-VPT2BT Bluetooth shooting grip, which doubles as a compact tripod, can be purchased for an additional $98.
Sony ZV-1 Review – Design
The Sony ZV-1 is like a Sony RX100 Mark V that's been redesigned for YouTubers. The end result isn't perfect, but it does fix most of the criticisms we had of the Mark V when it came to video shooting. Along with the Canon G7X Mark III, it's one of the few compact cameras that's been designed primarily for video.
First, the good bits. The best new feature is a side-hinged articulating touchscreen. This kind of screen is better than a tilting one for shooting video, because it leaves the top and bottom of the camera free for attaching accessories. Crucially, it also flips around 180 degrees to face forwards, allowing those operating one-person YouTube channels to frame their shots without needing someone behind the camera.
Sadly, Sony's touchscreen functionality is still pretty limited. You can tap the screen to pull focus in video, for example, but not navigate menus or even zoom in on photos. That's a shame for a camera that's been designed primarily for people who are upgrading from smartphones; still, the benefit of that side-hinged screen is that there's room on top of the camera for a hotshoe.
Autofocus and lens
The Sony ZV-1 does what many vloggers have been crying out for – it combines the lens of the Sony RX100 Mark V (or at least a mildly tweaked version of it) with Sony's latest Bionz X processor and autofocus skills.
Why include the 24-70mm lens from the Mark V, rather than the 24-200mm lens seen on the last two Sony RX100 cameras? Because the former is simply more suited to vlogging, thanks to its brighter f/1.8-2.8 aperture. This combines nicely with the camera's 1-inch sensor to give your videos some pleasing background blur, while still photos also benefit from the knock-on effect of the ability to shoot at lower ISOs in equivalent scenes (albeit at the expense of that longer 200mm reach).
But the ZV-1's real ace is pairing this bright lens with some of Sony's latest Real-time autofocus tech. This is possible thanks to the combination of the Bionz X processor (also seen in the full-frame Sony Alpha A9 II) and that 1-inch, 20.1MP stacked CMOS sensor, which has 315 phase-detect autofocus points covering 65% of the frame.
What does all this mean in reality? For a start, the ZV-1's hybrid autofocus, so-called because it combines phase detect with contrast-detect AF systems, means it's faster and more confident for video than the contrast-only systems seen in rivals like the Canon PowerShot G7 X Mark III.
Performance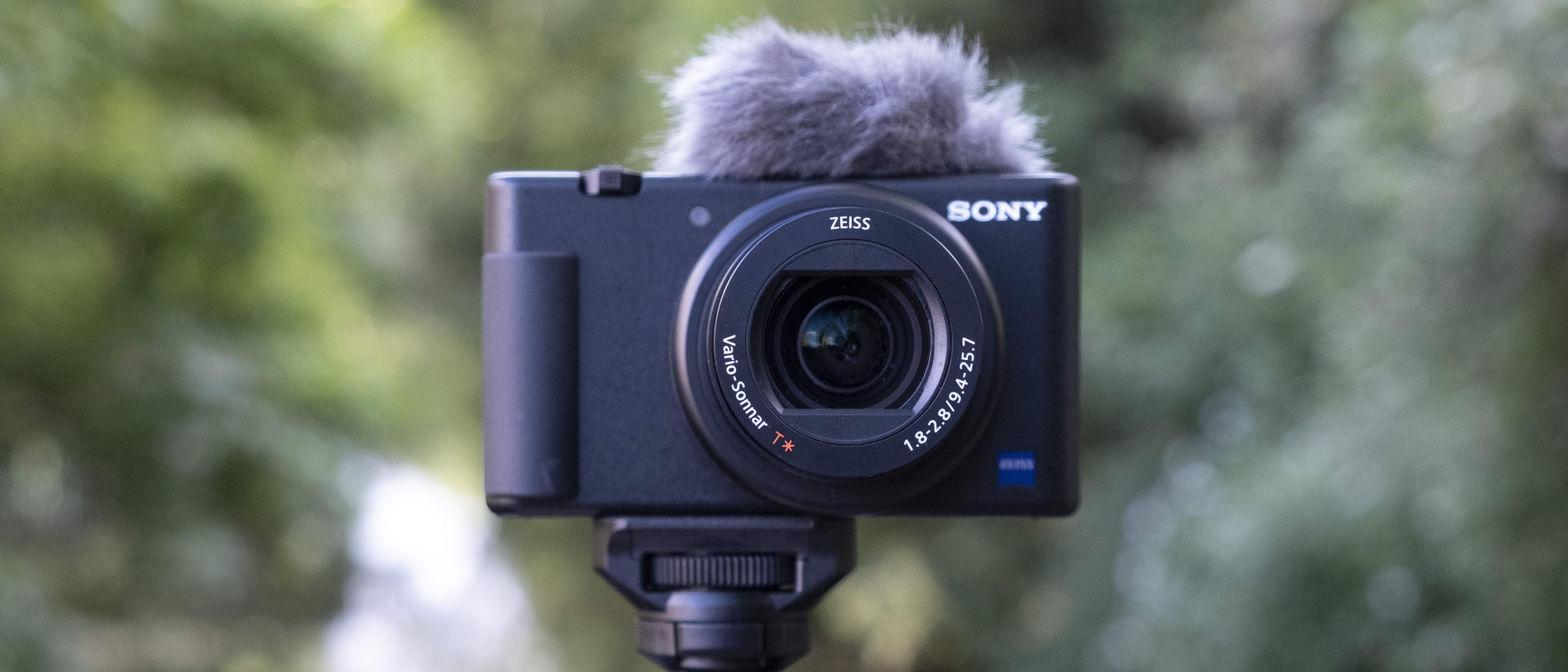 Alongside great autofocus, a forward-facing screen and good audio options, vlogging cameras also need impressive image stabilization to help keep handheld footage steady. Of those four features, this is the Sony ZV-1's weakest area.
Not that its SteadyShot system is bad, by any means. Its most powerful 'Active' stabilization mode combines optical and electronic stabilization, and is available in 4K shooting too. If you're doing any walkaround vlogging, this is an essential mode, as you can see in our test clips below.
The trouble with 'Active' stabilization is that it applies a slight crop to your footage in order to counteract the bounce in your walking movements. It's not too severe, but because the ZV-1's widest focal length is already a slightly tight 24mm, it does mean you end up with very little room around your face when holding the camera at arm's length.