Phoenix makes coffee a priority. Several local coffee houses in the area provide what coffee (and tea) drinkers need — a few moments to grab a breakfast item, pick up a favorite brew before a commute, or a quick chat outdoors with a friend over a latte. These best coffee shops in Phoenix also offer baked goods, carefully brewed coffee and lattes, and a place to enjoy scenic views on an outdoor patio.
Best Coffee Shops In Phoenix
Futuro
Palabra is an intensely minimalist art collective, hair salon, and cafe all wrapped into one just off Roosevelt Row. Transforming what used to be a children's school into a matte white gallery only accentuated by fortuitously cracked cement floors, the lack of color at FUTURO allows a sensory emphasis on paintings, as well as, premiere Spanish-inspired coffee. It's safe to say, whatever the beverage ordered here, the attention to detail per ingredient is second to none. Literally, whatever you're consuming is probably the most elaborately conceived version of that food or drink there ever was.
Songbird Coffee & Tea
Residing within a historic home built along Roosevelt Row at the turn of the 20th century, Songbird Coffee & Tea is the ultimate community gathering space where all are welcomed with warmth and grace. Their picnic table dappled outdoor patio is shaded by the likes of a cheerfully shaggy tree, meanwhile inside, there exists the sort of living room coziness that we can only tend to enjoy at our own lodgings. Be prepared to run into local artists, writers, graphic designers, and if you're lucky, maybe even a performer as this part of town has come to be celebrated as Phoenix's most vibrant arts district.
Lola Coffee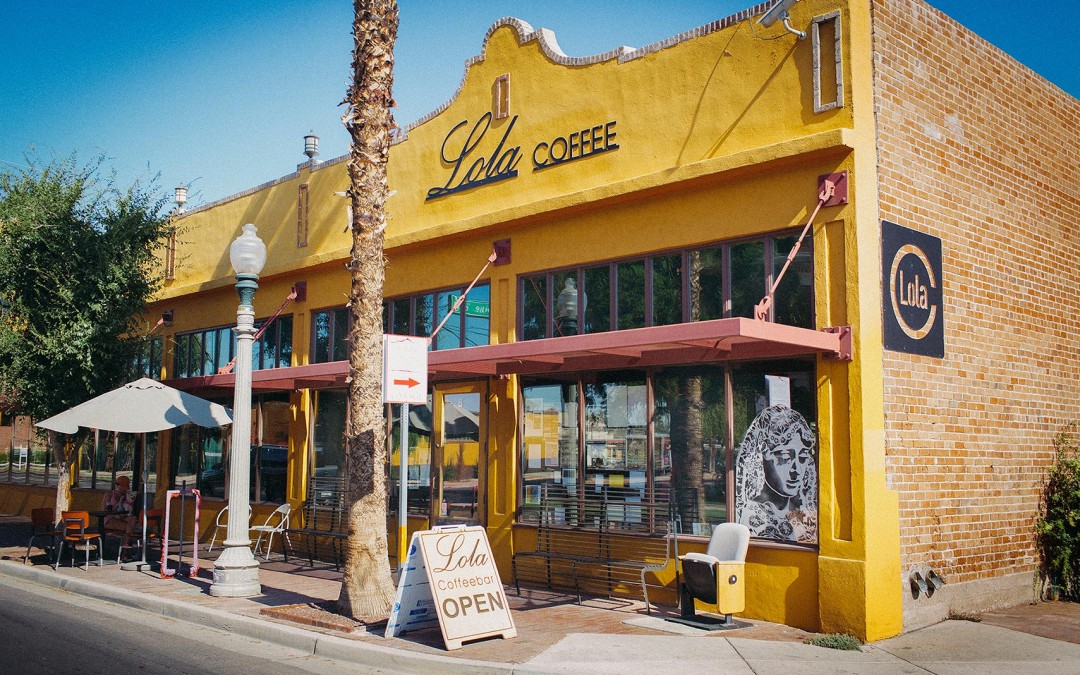 Daniel Wayne began his journey in the coffee business with a 6-foot Espresso cart in front of Phoenix's Hub Building – he used to eat 59 cent bean burritos every day just to get by. Those hard times are long gone as Wayne, along with his beloved staff, now operates one of the most iconic cafes downtown. Lola's has been a local favorite for the last decade, whether it's their cool outdoor patio, spacious interior, cinnamon tinted choco Matador on ice, or delicious breakfast menu, there's a little bit of something for everybody to fall in love with here.
Kream
Kream, not unlike Futuro, is a design lover's dream. It is an unassuming kiosk set inside For the People, which sells modern furniture, home goods, and more. However, featuring roasters such as Camber Coffee, Sweet Bloom Coffee Roasters, George Howell Coffee, and most recently Sey Coffee, this stand offers something completely out of the ordinary for the Phoenix scene.
For the People is set up as a menagerie of luxury. As a result, even when there are more than a few people in the building they are usually all dispersed amongst the spacious store's various departments, browsing everything from fine art to jewelry to bicycles. There is no sense of the speed of life outside. This means that Kream's baristas are able to offer a superb customer experience at any given time at a relaxed pace.
Maverick Coffee
Founded by Olympic athletes, Maverick Coffee's beans are supplied from vendors in Presta, Tucson, as well as Ritual Coffee in San Francisco. The pour-over options include V60, Chemex, Aeropress, and French Press. They also offer Kyoto-style (a slow-drip method originating in Japan) and toddy cold brew (a steeping method that creates a thicker cup). With a classic European vibe, this coffee spot is delivering curbside its sophisticated coffee preparation.
Peixoto Coffee Roasters
Owner Julia Peixoto Peters brings her Brazilian family history to Peixoto Coffee Roasters. The coffee is made courtesy of the family farm's coffee trees in Brazil and there is a conscious choice to support sustainability in their coffee making. Located in historic downtown Chandler, speciality drinks include a white silk mocha, a sugar plum latte, or a Canadian fog. The lobby is closed, but online ordering and curbside pick-up are available.
Lost Dutchman Coffee Roasters
Since its opening in 2003, the Lost Dutchman Coffee House has focused on locally roasted, high-grade coffee. The coffee is roasted in a micro-roastery in Tempe and the Gold Rush is a favorite offering — a double shot of espresso with half-and-half and a hint of vanilla. They also offer smoothies, teas, shakes, and floats. There is a food menu with offerings like gourmet oats, pastries, and cookies. This is one of the best coffee shops in Phoenix you should not miss.
Read more