The popular festivals in Uzbekistan are as original and unique as the culture of this country. The traditions are very old and they are a union, which occurred over the centuries, of the customs and rites of all the ethical groups which have brought about the country's contemporary society. Uzbekistan can be considered as one of the most unique cultures of the East.
Festivals In Uzbekistan
Sharq Taronalari
Sharq Taronalari is one of the most attractive festivities in Uzbekistan for visitors. It is an international music festival which was held for the first time in Samarkand, in 1997. It managed to attract a large number of participants and artists that year and consecutive ones in its next editions. It is celebrated annually in the summer. Many national singers participate, who perform music from the country's ancient folklore, such as uran khai, which is a song performed with the throat. Or the makom, which is a kind of classical or melodic music of the Uzbek tradition. There are also musicians from Asia and Europe, so the festival is a beautiful and enriching mix of cultures and rhythms.
Independence Day (1st September)
Among the popular festivals of Uzbekistan, Independence Day stands out because of its great relevance for the history of the country. That day commemorates the recovery of the sovereignty of Uzbekistan after a long period of Soviet occupation. To celebrate it, parties and events are organised in different towns and cities. The president gives a solemn speech to the entire nation in the Alisher Navoiy National Park in Tashkent, which concludes with a fireworks display.
Boysun Bahori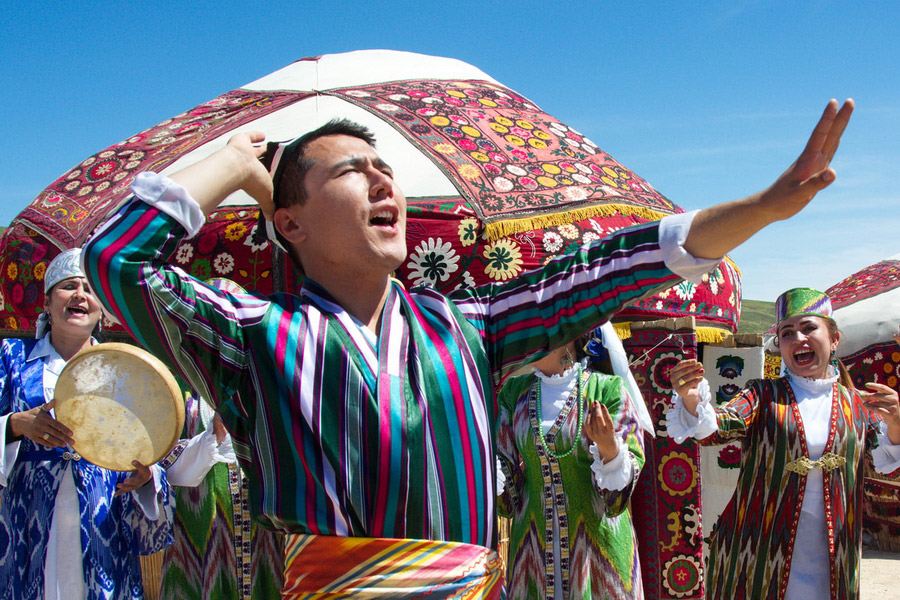 Many local or provincial celebrations of spring take place in various parts of Uzbekistan. The biggest and perhaps the most culturally significant event is the Boysun Bahori. Held in mountainous Boysun in Surkhandarya Province, this festival dates back to pre-Islam times and features costumes, songs, dance performances, storytelling, and other local traditions which have withstood the test of time. This event is so steeped in the region history and culture that in 2001 UNESCO named the Boysun district as a Masterpiece of the Oral and Intangible Heritage of Humanity.
Ramadan and Eid ul-Fitr
As with any Islamic country, Uzbeks also observe Ramadan, the Muslim holy month of fasting, abstinence, and prayer. It culminates in a festival called Eid ul-Fitr, which sees families unite in large celebratory feasts. As these festivals follow the lunar calendar, dates for Ramadan and Eid ul-Fitr change every year.
The most ancient national holiday Navruz ("Holiday Navruz"), in translation with Persian Navruz designates "new day". Navruz which is marked on March, 21st, is considered the beginning of the new year. As is known March, 21st is a day a spring equinox. Day length and nights are identical – 12 hours. On March 21st the Earth enters during the World astronomical equality. And still, this day seasons on hemispheres vary, if in a southern hemisphere there comes autumn, northern – spring.
This holiday is celebrated at the beginning of spring when all plants and trees blossom and get a new spring kind. At the beginning of this holiday, many Uzbek families prepare national dishes such as Sumalak, Halim, Somsa from plant, Pilov and others. These Uzbek dishes contain many vitamin substances which are useful to the human body.
With the obtaining of the country's independence, ancient customs and traditions of Uzbek people have revived, holiday Navruz also has been restored, and celebrating has got new scope and depth. It became a national holiday of friendship, unification, the brotherhood of all people. In the bright dramatized representations of the philosophic and poetic judgment of Navruz, it places in national history reveals. Now Navruz is celebrating annually on Alisher Navoi's square.
Qurbon Hayit (Iyd ul Adha)
Religious holiday Qurbon Hayit is one of the greatest holidays in the World which is celebrated by Moslems. Sources of this holiday are ancient histories which are connected with prophet Ibrohim who in honor of the belief wished to sacrifice to "Allah" of the own son, but his actions have stopped kind spirits and instead of this have told to him to sacrifice other animals such as sheep, camels, etc. Since this moment all Moslems began to sacrifice animals in these holidays.
The holiday lasts three days and these days all Moslems celebrate this holiday with their family with natives and close. Especially in these holidays people visit native and close, and also sick and requiring in the help. The first day of a holiday "Qurbon Hayit" is considered not a working day, and all establishments have a vocation in this holiday.
Read more: Delicious Foods In Uzbekistan You Need To Try